NordVPN VIP Account with 3 Year Subscription - INSTANT DELIVERY - ORIGINAL NEW KEY CODE!
Nord VPN 3 Year Subscription
Nord VPN helps you to protect your privacy online and access media content with no regional restrictions.
- You will have access to the account which are fully private non shared.
- The subscription will last anywhere from 2 up to 3 years.
- Warranty comes with the Nord VPN for 12 months.
- Fast response time & delivery.
- Able to get free high quality proxies with this subscription.
- Many other VIP features.
Terms of Service:
1. You cant change password !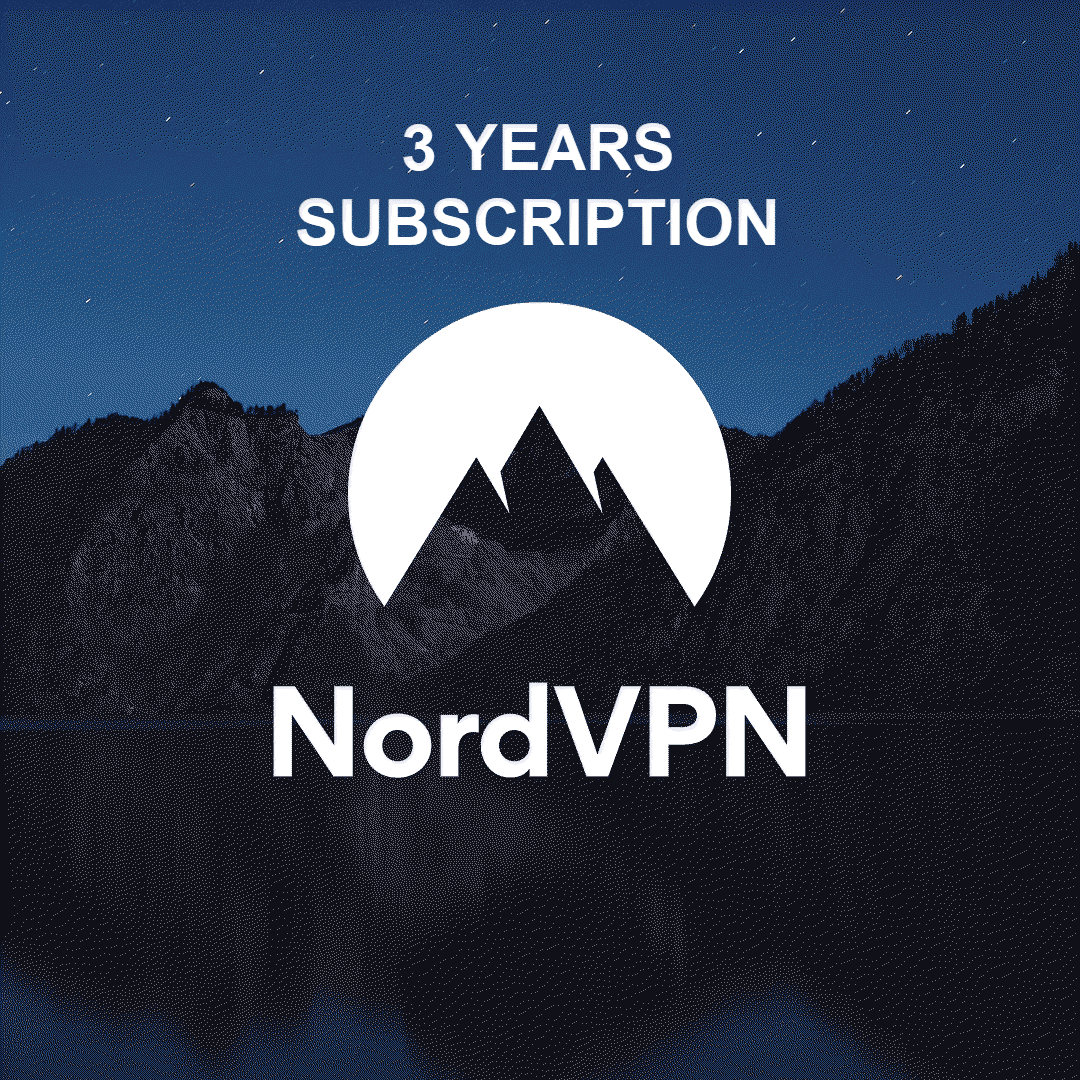 What is NordVPN?
NordVPN is a robust VPN solution for private individuals and businesses of all sizes. The software ensures the online protection of its users through its military-grade encryption and strict no-logging policy. This way, users can rest assured that no one is tracking or monitoring their internet usage and behavior.
Furthermore, companies can utilize NordVPN to conduct anonymous market research and test their products globally. Having unhindered access to a world of online data makes certain they gain accurate market insights.
Moreover, NordVPN offers protection to all kinds of devices. This gives subscribers a true peace of mind since they know that their activities cannot be logged no matter which device they are on.
NordVPN lets you use public Wi-Fi and personal and work accounts while on the go with confidence. Users can also keep their browsing history to themselves for privacy. The software works for any device: Windows, macOS, Linux, iOS, Android, Android TV. Chrome and Firefox also have encrypted proxy extensions. With a single account, you can protect all types of devices up to six of them all at the same time.
NordVPN can be used anywhere. It has over 5,000 servers in 62 countries which means you can assure streaming and downloading files don't experience any lags. In affordable tiered plans, users will get features such as double encryption, unlimited bandwidth, no logs policy, pay in crypto and kill switch, among others.
Overview of NordVPN Benefits
Multi-Platform Protection
With NordVPN, a user is able to connect up to 6 accounts under one account. Even so, they can rest assured that their online security and privacy are not compromised.
Furthermore, the VPN application is available for different platforms such as Mac and other Apple devices, Windows, and Android. This enables users to enjoy NordVPN's protection no matter which device they are on.
Mobile Safety
NordVPN also provides protection to Android and Ios devices through its smart and user-friendly apps. These are designed to ensure safety when the connection to the secure server goes down. This way, no application is able to access the internet outside of the protected VPN tunnel. This gives users a peace of mind that their personal information remains private at all times.
Secure Online Experience
NordVPN promises its users complete anonymity on the web. This entails a strict no-logging policy. This means that a person's internet activities and usage behaviors are not recorded online. Therefore, NordVPN is not able to provide information regarding their customers' internet usage behavior to users themselves, government agencies, or any other third party.
Confidential Information
NordVPN's business solution offers protection not just for executives of a company but for all employees. This way, everyone is able to securely receive and relay data over the internet with their colleagues, customers, and other stakeholders. This protects not just the company but also the customers.
Safeguarded Payments
With NordVPN, users can do online transactions with no fear. The software's military-grade encryption makes certain that financial processes have a double layer of protection so they remain secure at all times.
Anonymous Research and Testing
Companies can test-drive their products on the internet in a click. With NordVPN, they can access the internet with no boundaries and gain accurate market knowledge and insights.
Furthermore, NordVPN enables businesses to conduct field researchers without revealing their identities or locations. The software alters the IP address for companies to be untraceable.
Overview of NordVPN Features
Military-Grade Encryption
CyberSec
Double VPN
Hide IP Address
No Logs Policy
Bitcoin Payments
Automatic Kill Switch
DNS Leak Protection
Onion Over VPN
Content Access
Streaming
SmartPlay
P2P Sharing
High-Speed VPN
---
Customers Also Bought